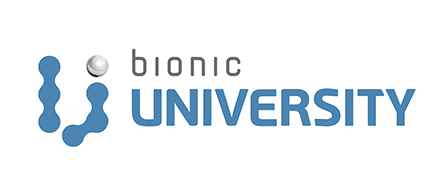 The inter-corporate IT university BIONIC University
BIONIC University (BU) is an educational initiative of Vasyl Khmelnytsky's Fund in partnership with leading Ukrainian and international IT companies, including Infopulse, Cisco, BMS Consulting, Ciklum Consulting, MacPaw, Wikimedia Ukraine. It is the first inter-corporate IT university in Ukraine aimed at the training of professionals for the high technology sector, taking into account the actual needs of the IT industry.
BIONIC University provides practical skills for the development and promotion of high quality IT products. More than ten training programs were presented under the TechSkills program to help students master in demand technologies. The SoftSkills program combines training programs to obtain and reinforce effective communication, teamwork, and project presentation skills.
"Ukraine is an IT outsourcing leader in Central and Eastern Europe and it is also one of five world leaders in terms of the number of certified IT experts. Our task is to support talented young people and create conditions for their professional development and use of their talent in Ukraine. BIONIC University will allow promising individuals to receive necessary skills and knowledge faster, which is very important in this highly competitive market."
Vasyl Khmelnytsky, founder of K.Fund, at the opening of BIONIC University
More than 2,000 people have undergone training at BIONIC University over five years of its operation. Ukrainian students not only implement their own projects, but also participate in joint projects with foreign companies and entrepreneurs. Live exchange of ideas takes place and results are tested. Combination of contemporary technical knowledge, social networking skills, and entrepreneurship allows BIONIC University to introduce brand new professionals to the Ukrainian IT market.
BIONIC University students participate in the joint development of products, including those demanded at the international level. For example, jointly with Rotterdam University of Applied Sciences (the Netherlands), they implemented several successful IT projects of Dutch companies and Rotterdam's municipal government.
"The level of training at BIONIC University meets the requirements of both Ukrainian and European customers, and successful participation in team work on international software development projects gives an opportunity to get a job at promising Ukrainian IT companies."
Iryna Zaytseva, project manager at BIONIC University
In 2015, BIONIC University jointly with UC Berkeley Center for Executive Education (the U.S.) implemented a unique U.S.-Ukrainian educational program – Entrepreneurship and Innovation Management Program. It was aimed at training its participants on how to use Silicon Valley companies' experience in Ukraine. The program focused on the use of new technologies and business models. Talented Ukrainian managers and entrepreneurs with practical experience and own business development projects took part in the program. Candidates who could use the new knowledge and skills to make a contribution in Ukraine's economic development were selected.
"The fact that today Ukraine ranks fourth in the world in terms of the amount of IT experts, following the U.S., India, and China, impressed me. I am sure that this successful industry will lead Ukraine to prosperity and will strengthen relations between our countries."
Geoffrey Pyatt, U.S. Ambassador to Ukraine, at the opening of BIONIC University
In 2016, BIONIC University launched its own project on software development – BU Dev Studio, in the framework of practical training concept. Teams create products and search for solutions to real business needs. 
The founder of K.Fund, Vasyl Khmelnytsky, believes that young people need not only good contemporary education, but also opportunities for professional realization in Ukraine. This is the reason why BIONIC University pays attention to both the development of the education environment and the creation of opportunities for providing students and graduates with jobs in the country's most innovative companies.