UNIT.City will host the all-Ukrainian Code Club & K.Fund Meetup "Mentoring in your DNA"
22 September, 2021 Media-centre, News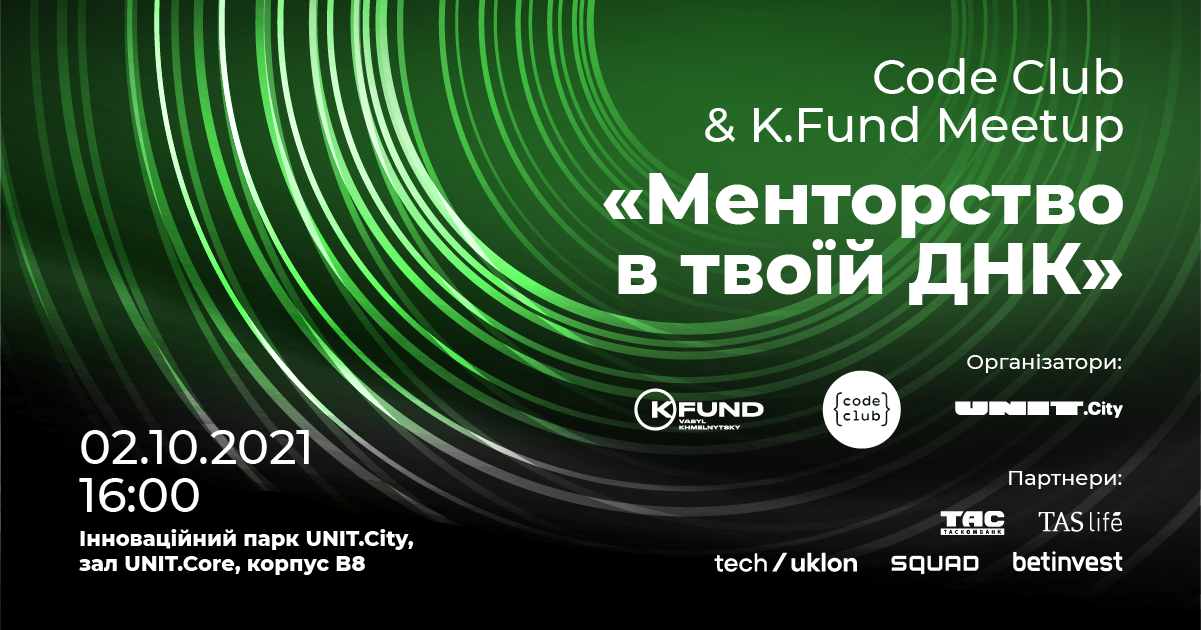 On October 2, the all-Ukrainian meetup "Mentoring in your DNA" will take place in the UNIT.City innovation park, designed to promote the culture of mentoring and answer current questions. The event is organized by the Vasyl Khmelnytsky foundation K.FUND and the all-Ukrainian network of free coding clubs for children and adolescents aged 8-17 Code Club Ukraine, supported by the venture fund TA Ventures (founder and managing partner — Victoriya Tigipko).
Why is such a meeting necessary?
Society, business, and education today need new approaches and solutions that meet the needs of the modern world. One of them is mentoring — a global trend that unites countries and industries.
Knowledge transfer through mentoring, intellectual volunteering in education and culture, mentor as a powerful role model… Mentoring programs are successfully implemented by well-known companies: NetCentrics Corporation, Boeing, Google, SottServe, Luxoft, Tickets.ua, Intego Group, General Electric, Whole Foods Market.
How does this phenomenon take root in Ukraine? What examples from world practice should be borrowed, and what approaches of Ukrainian companies should be scaled? These and other issues will be possible to discuss with experts from various industries and the IT community on October 2.
Why is this for you?
A deep understanding of mentoring and its implementation is a qualitatively new stage in the development of our society, an upgrade of business and education. Learn how to use mentoring to strengthen your team, pump your own skills. How to become a mentor, what skills do you need and what benefits does mentoring provide.
The speakers of the meetup will be:
Victoriya Tigipko, Founder and Managing Partner of TA Ventures, President of ICLUB Global, Founder of Code Club UA;
Lidia Paschuk, President of the K.Fund foundation, Head of the School of Small and Medium Entrepreneurship, Associate Professor of Kyiv National University. T. Shevchenko, lecturer at the Chartered Institute of Marketing, Ph.D.;
Alina Scherbyna, Head of Code Club UA, Executive Director of Wtech;
Victor Galasyuk, President of the Ukrainian Association of the Club of Rome, Corresponding Member of the World Academy of Sciences and Arts, Member of the Supervisory Board of KMEF, Doctor of Economics;
Anna Machukh, Executive Director of the Ukrainian Film Academy, General Director of the Odesa International Film Festival.
The second part of the event is dedicated to the panel discussion: "Mentoring trends and trends in Ukraine and the world" with the participation of representatives of companies: UKLON, TASKOMBANK, Tas Life, SQUAD, Betinvest.
We invite experienced and potential mentors, IT professionals and students, representatives of the business community, and all people involved in intellectual volunteering.
Participation is free by pre-registration via the link.
The event will start on October 2, 2021 at 16.00 in the hall of UNIT.Core (campus B8) of the innovation park UNIT.City.
Please note: according to the new rules and the entry of Ukraine into the yellow quarantine zone, guests must have a yellow or green COVID-certificate — in paper form or in the application Diia.