The second season of a unique international design education course will be launched in Ukraine
27 July, 2021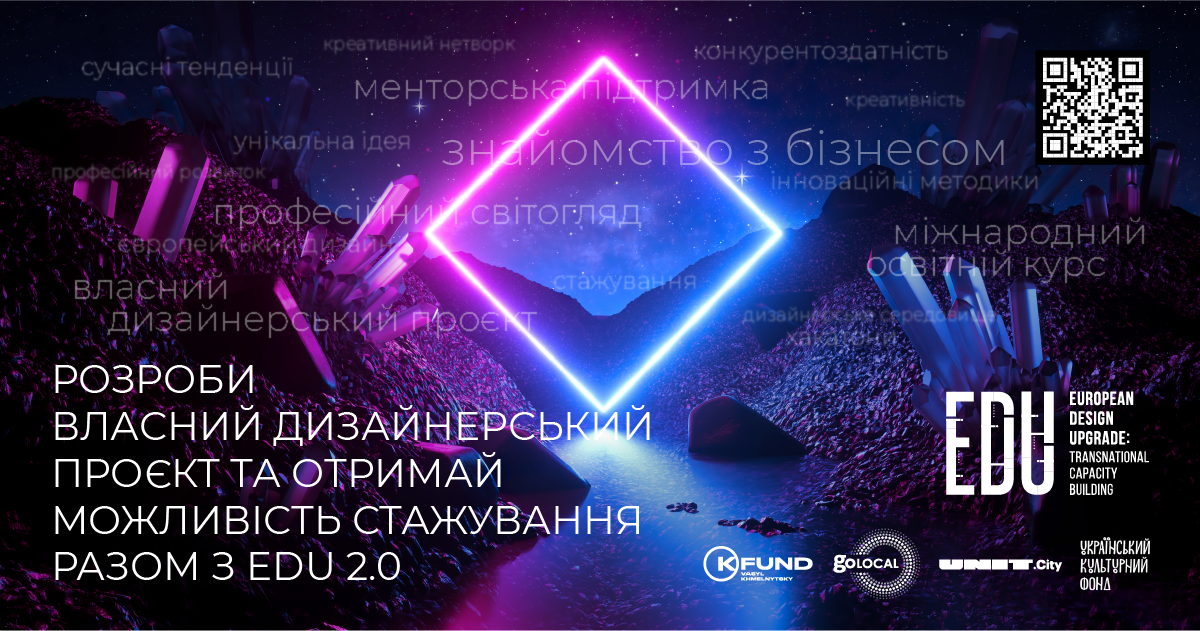 Project finalists will have the opportunity to develop their own design project and undergo an internship in a business environment
July 26, 2021. — Ukrainian cultural organizations have developed an innovative international educational program European Design Upgrade (EDU 2.0) for graduate students. The 2021 project aims to develop creative industries and support talented students of design and creative industries and is a continuation of the implemented international project in 2020.
EDU 2.0 is supported by the Ukrainian Cultural Foundation and implemented by the Vasyl Khmelnytsky K.Fund foundation and the non-governmental organization GoLocal. UNIT.City innovation parks in Kyiv and Kharkiv are business partners.
With the program, course participants will have the opportunity to increase their awareness and competitiveness, expand their worldview and gain an understanding of the latest trends and achievements of European design, which were used in the European Design Upgrade project in 2020 and preparation for Ukrainian designers in Dutch Design Week 2020.
The project program will be available in Ukrainian and English and will include blocks: "Philosophy and concept of design", "Urban design and innovative technologies", "Business strategies for sustainable design", "Humanistic design of the future", two hackathons and final presentations of design ideas business representatives.
Among the advantages of the course are a lecturer and mentoring support of leading Ukrainian designers and entrepreneurs of the creative sector, an active student network of designers, applied application of design concepts, and interaction throughout the project with the innovative business environment. The finalists of the project, whose ideas will find a response from the partners, will have the opportunity to undergo an internship.
The project will run from early August to late October 2021. The ideal applicant must fill out a complete questionnaire, present the idea of their own project, indicate their own motivation, and be a graduate of specialized universities. It is possible to become a participant of the program after filling in the form and interview interviews with the project curators.
More about the program "Development of European Design" via the link.
ADDITIONAL INFORMATION
The K.Fund foundation was founded by Ukrainian entrepreneur Vasyl Khmelnytsky in 2015 to support projects in the field of education and economics. K.Fund's mission is to provide keys for development and implementation, provide opportunities for new knowledge and skills, facilitate discovery and help reach a new level.
The project is funded with support from the Ukrainian Cultural Foundation.