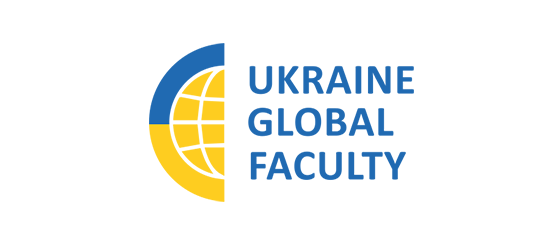 UKRAINE GLOBAL FACULTY
The K.FUND charitable foundation, under the auspices of the Ministry of Education and Science of Ukraine and with grant support from the Ukrainian Startup Fund, continues to implement the Ukraine Global Faculty (UGF) project. Its mission is to bring world-class education to Ukraine, making it accessible to everyone who is willing to learn, regardless of income, education, age, gender or place of residence.
Every week, international professors from leading universities, top experts, and entrepreneurs deliver online lectures on the UGF platform for the Ukrainian audience: students, postgrads, professors, and professionals. Participants are provided with simultaneous translation into Ukrainian, the opportunity to ask questions to the lecturers, access to the archive of already delivered lectures 24/7, as well as certificates of attendance.
The educational events of the project cover the main fields of knowledge: arts and humanities/social sciences, business and law, natural sciences, and mathematics, IT and communication technologies, engineering, and computer science.
The UGF platform has been launched on the day of the liberation of Kherson and has already united more than 14,000 participants, including students, postgrads, professors, and professionals from all regions of Ukraine, as well as temporarily displaced persons, and Ukrainians who were forced to leave abroad. More than 25 international contributors and 47 leading universities from Ukraine have already joined the UGF.
UGF key features:
100% online format;
24/7 access to the lecture archive;
content in English with simultaneous translation into Ukrainian;
wide range of topics: from physics, IT and engineering to economics and entrepreneurship;
world-class speakers who support Ukraine and Ukrainians;
opportunity to ask questions to the lecturer and find fellows with similar interests;
certificates of participation (can be used for advanced training);
free access for all participants.
How to participate in UGF?
Register at www.ugf.academy
Choose the lectures you are interested in through your account. You can even enrol for lectures that have not yet been scheduled. Once the groups of students are assembled, the lecturers will choose the dates and UGF will inform you.
Sign into your account and participate in online live lectures. No special software is required. Choose your preferred language (English or Ukrainian). Ask questions to the lecturer in the chat, he/she will answer the most interesting ones.
Search for lectures you are interested in not only among the scheduled ones, but also in the archive of the delivered lectures (video recordings are in English and Ukrainian).
Follow our news on the website www.ugf.academy and telegram channel
t.me/UkraineGlobalFaculty. We will inform you about upcoming lectures and new contributors.
Get certificates of participation in UGF lectures.
Expand your professional network and develop together with Ukraine Global Faculty.
If you have any questions or suggestions, please contact the UGF team:

[email protected]
Detailed information about the fund and its activities can be found at the links below.