Lydia Pashchuk: what is leadership?
10 November, 2021 News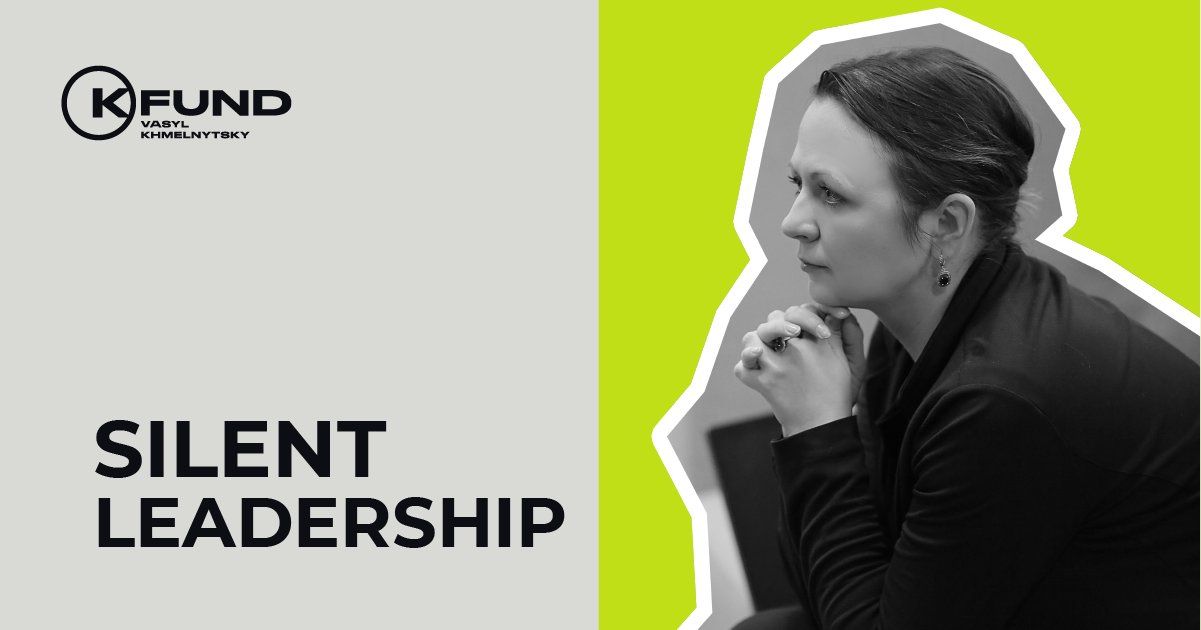 And what to read on this topic
The leader is the one who leads. "The one who has followers," writes the president of the Vasily Khmelnitsky Foundation K.FUND, head of the School of Small and Medium-Sized Businesses Lydia Pashchuk in her book "Ukrainian Dream. I'm a businessman!".
An entrepreneurial leader leads the team towards the dream and goals for which he created the business.
Therefore, one of the main functions of a leader is visionary work. That is, the ability to see the future, create it in your dreams, infect and charge others with your vision.
There is a stereotype that a leader is necessarily a charismatic person who can say something from a grand rostrum that will raise thousands of people. This is not necessarily the case. Now even the term "quiet leadership" has appeared. It's about such a leader's trait as humility. Such leaders are sometimes not visible in the team at first glance, they cannot speak brightly, but people follow them. Why? Because the leader is giving, not taking away. He gives people and business his energy, knowledge, dreams, time, emotions.
Therefore, in addition to visionary work, the main functions of a leader are:
team unification;
employee training;
search for new ideas.
What to read?
Jim Collins, Good to Majestic
It is an iconic business book that has been extremely popular among business leaders and managers for many years. The author has researched dozens of successful companies, hundreds of managers, and thousands of scientific articles, carefully seeking knowledge of how to start a big business and become a very successful leader. Lydia Pashchuk recommends paying special attention to the fifth chapter – about leaders. Collins believes that one of the most important reasons for the success of companies is the talent of its leader. He identifies five main types of leaders, dividing them by level.
Level 1 – a highly professional employee who actively uses his abilities, knowledge, experience and skills.
Level 2 – a valuable team member who contributes to the achievement of goals and interacts effectively with other team members.
Level 3 – a competent manager who knows how to organize people and allocate resources rationally.
Level 4 – an effective leader who is able to form a vision for the future and ensure that the company moves along the intended path.
Level 5 – able to achieve exceptional results and has outstanding personality traits.
Each subsequent level of the leader includes features of all previous levels.
A characteristic feature of Level 5 leaders is that the main thing in their life is the success of the companies, and only then the pursuit of their own well-being and glory.
John King, Dave Logan, Halee Fisher-Wright, Leader and the Tribe
This book is the result of a decade of field research involving 24,000 people from two dozen organisations. The authors found out how mediocre, "primitive" corporate "tribes" differ from "tribes" with highly developed culture. They found that the culture of "tribes" develops in stages, moving from one level to another – from destructive aggressiveness and self-centeredness to team creativity.
The book provides answers to several interesting questions. Why do great leaders often fail in new environments? Why do mediocre leaders sometimes seem better than they really are? Why are great strategies more likely to fail than work?