K.FUND invites you to the Day of Small and Medium Business
9 November, 2021 News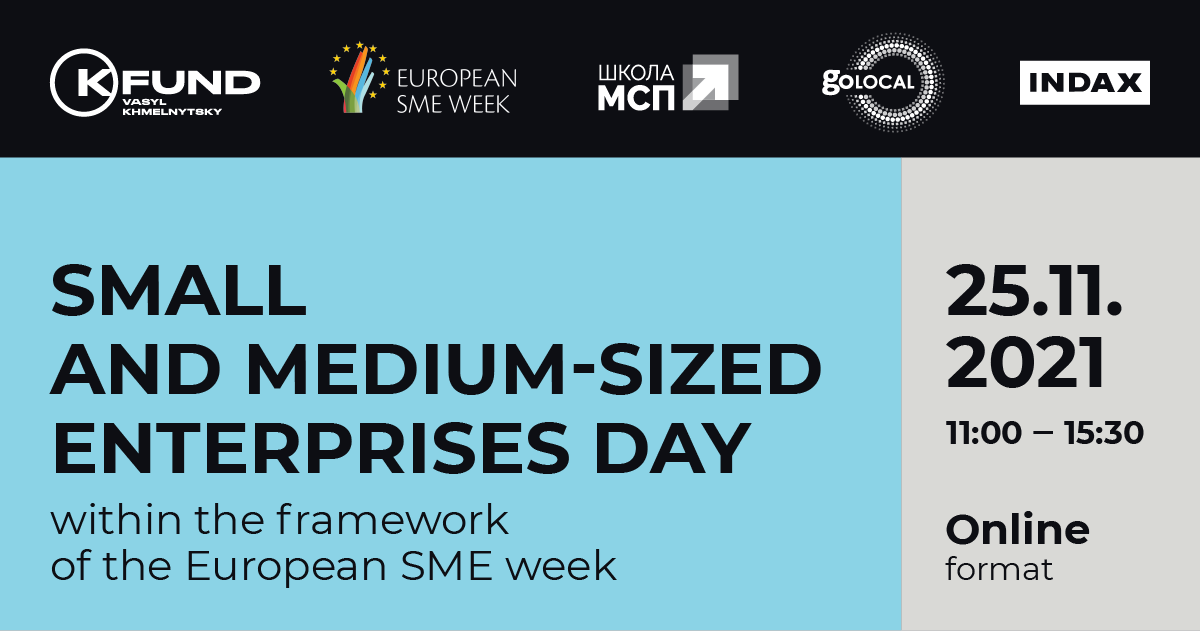 On November 25, a free online conference "Day of Small and Medium Enterprises" will be held at K.FUND sites. The conference is organized as part of European Entrepreneurship Week, a pan-European campaign to promote entrepreneurship in Europe.
The organizer of the event is the Vasyl Khmelnytsky Foundation K.FUND, created to support projects in the field of education and economics.
The topic of the conference: "Development opportunities for small and medium-sized businesses." Together with leading experts, partners, entrepreneurs and alumni of previous programs of the fund, we will consider new opportunities for the development of small and medium-sized businesses, we will look for new markets, solutions, partners, and build business processes.
Moderator of the Day of SMEs – Lydia Pashchuk, President of the Vasily Khmelnytsky Foundation K.FUND, Head of the School of Small and Medium Enterprises.
There will be four online sessions during the event:
11:00 – 11:40 Markets for SMEs: exports, marketing, development.
Speakers:
Igor Guzhva, Doctor of Economics, Head of the CMD-Ukraine Analytical Center;
Natalia Paslavska, founder of the MakeMeWOW beauty salon network (Kyiv) and the Lavender Dreams home and leisure clothing brand;
Andriy Nimets, Commercial Director of the exporting company Milltrade S.A., a trader of oilseeds, 7 years of experience in exporting agricultural products from Ukraine;
Julia Pavlenko, Director of the Department of International Operations of JSC Ukrposhta, founder of the E-export school project.
12:00 – 12:40 People and business processes
Speakers:
Alla Osokina, expert of the School of Small and Medium Business, consultant on optimization of operational processes, personnel evaluation, certified lean-specialist, Ph.D., teacher of business schools and higher education institutions;
Ruslan Lemeschuk, expert of the School of Small and Medium Business, professional soft-skills business coach, entrepreneur, practitioner in the field of interaction and development management;
Oleg Savchuk, General Director of Bila Tserkva Plant "Tribo".
13:30 – 14:20 Search for innovative solutions and new products
Speakers:
 Olena Dobrorodneva, European Design Upgrade project manager, Vice President K.FUND, Director of Organizational Development UFUTURE.
14:40 – 15:30 Partnership as a tool for business scaling
Speakers:
Igor Komendo, Chairman of GoLocal;
Taras Demkura, Vice President of ICC UKRAINE (Ukrainian National Committee of the International Chamber of Commerce), Ph.D., businessman, philanthropist;
Daria Mustafina, director of the Institute of Partnership and Sustainable Development, founder of the Inspiring Women Academy of Women's Leadership and Entrepreneurship;
Yasko Ihor, Managing Partner of WINNER Law Firm, Lawyer, Ph.D.
Date: November 25.
Format: online conference.
Participation in the event is free with prior registration➡https: //bit.ly/3GVSMH6.