K.Fund invites to the Day of Small and Medium Entrepreneurship
13 November, 2020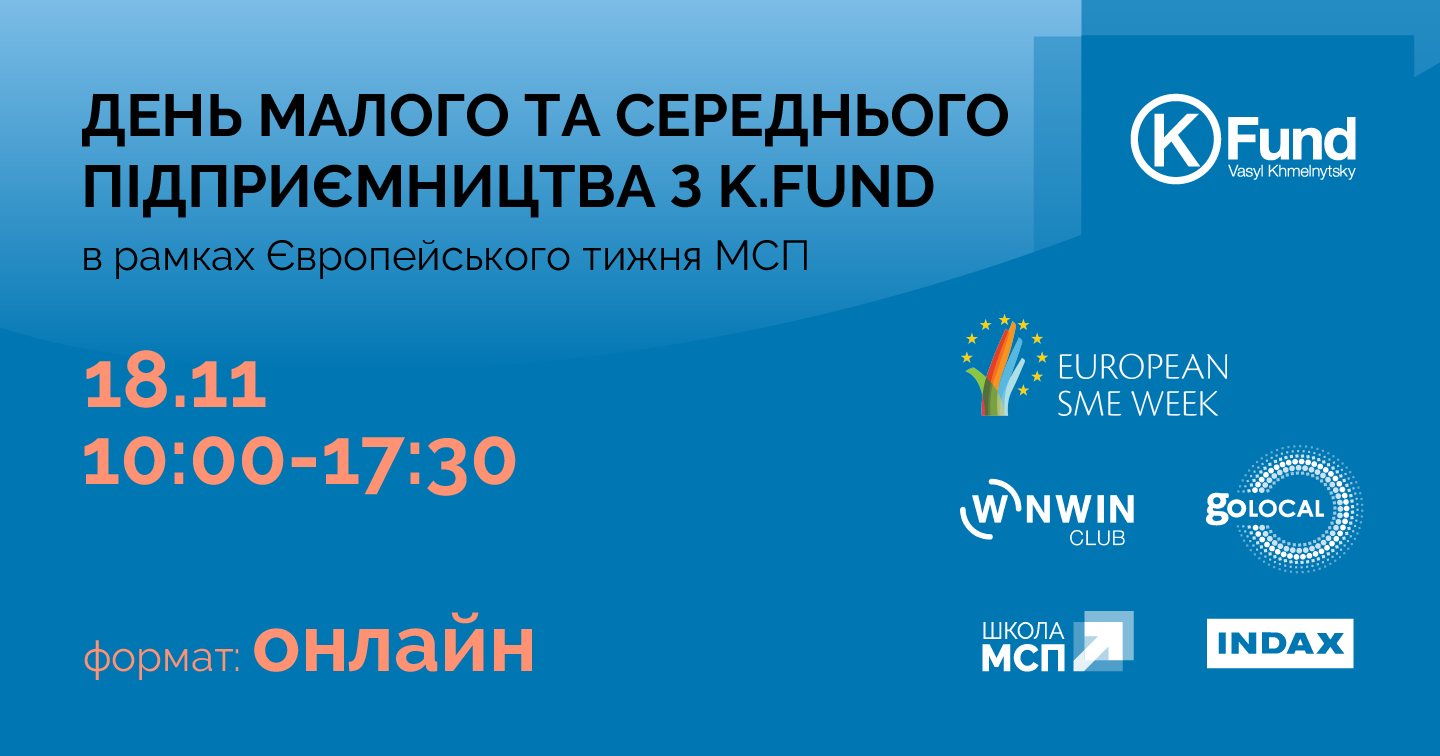 On November 18, 2020, there will be an online event — Small and Medium Entrepreneurship Day (SME Day) as part of European Entrepreneurship Week — a pan-European campaign to promote Europe's entrepreneurship.
The Vasyl Khmelnytsky K.Fund foundation organizes the event. The fund's purpose is to open access to modern education and provide new opportunities for personal and professional growth. One of the organization's priorities is to support the development of small and medium enterprises in Ukraine.
The online event will help participants learn about the support available at EU, national, regional and local levels.
The event will feature three online sessions and address the following issues:
how to start your own business;

beginner's errors and how to avoid them;

scaling capabilities;

how to find partners, investors and cooperate with them;




equal opportunities for SMB development: state support, business associations, grants, donor projects.
The speakers of the event will be:
Lidia Pashchuk, President of the K.Fund foundation;

Olena Dobrorodneva, Director of Organizational Development at UFuture, Vice President K.Fund;

Yulia Pavlenko, Director of the International Operations Department of Ukrposhta JSC, initiator of the E-Export School project;

Natalia Kalinkina, CEO of INDAX accelerator;

Vitaliy Lubinets, CEO of WIN WIN CLUB;

Serhiy Pozniak, owner and CEO of FGK Financial Group;

Valeriy Kokot, Executive Director of Impact Investment & Fair Trade, UNDP Expert;

Tetyana Myskova, Acting Director of the State Institution "Ukrainian Export Promotion Office";

Igor Komendo, co-founder of the NGO "GOLocal".
Participation in the forum is free with prior registration and confirmation from the organizers via the link.
At the end of the event, entrepreneurs will also be online networking with short presentations by SME representatives. Registration for it is available via a separate link.