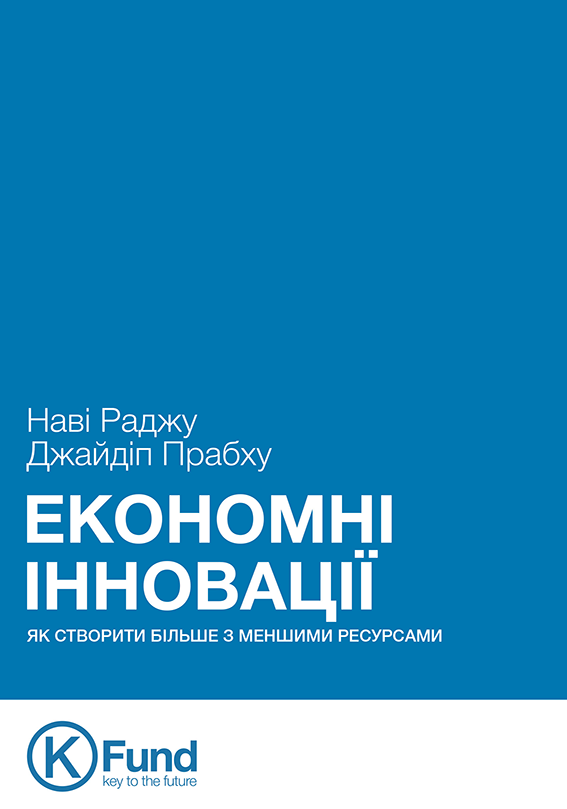 Frugal Innovation: How to Do More With Less
by Navi Radjou and Jaideep Prabhu
Annotations
The new book from The Economist Books series describing the revolutionary trend in global business – the frugal innovations. With this strategy many leading companies have changed their management thinking and learn to create high-quality products with limited resources. Today the goods market, which are released by frugal innovations principles, estimated at a trillion dollars and retains great potential for further development.
The Best Books of the Month on Amazon.com

The book contains valuable examples of using frugal innovations and provides the algorithm implementation in any company. The authors believe that in the near future, this knowledge will be necessary condition for carrying out any business activity.
«The book is enlivened by fascinating case studies » – Financial Times
Navi Radjou: Creative problem-solving in the face of extreme limits
Reviews
«Frugal innovation is an idea – and a book – whose time has come» – Paul Polman, CEO, Unilever
«Radjou and Prabhu demonstrate that frugal innovation is one of the most critical emerging models of value creation for both businesses and the customers they serve» – Indra K. Nooyi, Chairman and CEO, PepsiCo, Inc
«No business leader in the 21st century can ignore the paradigm shift fully described in this book» – Carlos Ghosn, Chairman and CEO, Renault-Nissan Alliance
«The concept of doing more using less deserves attention as inevitable reaction to new challenges» – Serhiy Kvit, Minister of Education and Science of Ukraine, president of the National University of Kyiv-Mohyla Academy
«The book will be of interesting primarily for businessmen and entrepreneurs of Ukraine, targeting international markets and realize that in most cases they will have to compete with well-known brands» – Valeriy Fischuk, Cisco Regional Business Development Manager, Ukraine/CIS
Additional Information

2015, К.FUND, Kyiv, format: 70х100/16, 208 p.
Translation:
Navi Radjou, Jaideep Prabhu Frugal Innovation: How To Do More With Less
Hardcover
USBN 978-1-78283-120-4 (eng.) USBN 978-966-2902-37-2 (ukr.)
© The Economist Newspaper Ltd, 2015
© К.FUND, Ukrainian edition, 2015