80 talented Ukrainian designers from Kyiv, Kharkiv, and other cities have passed the European Design Upgrade
3 December, 2021 News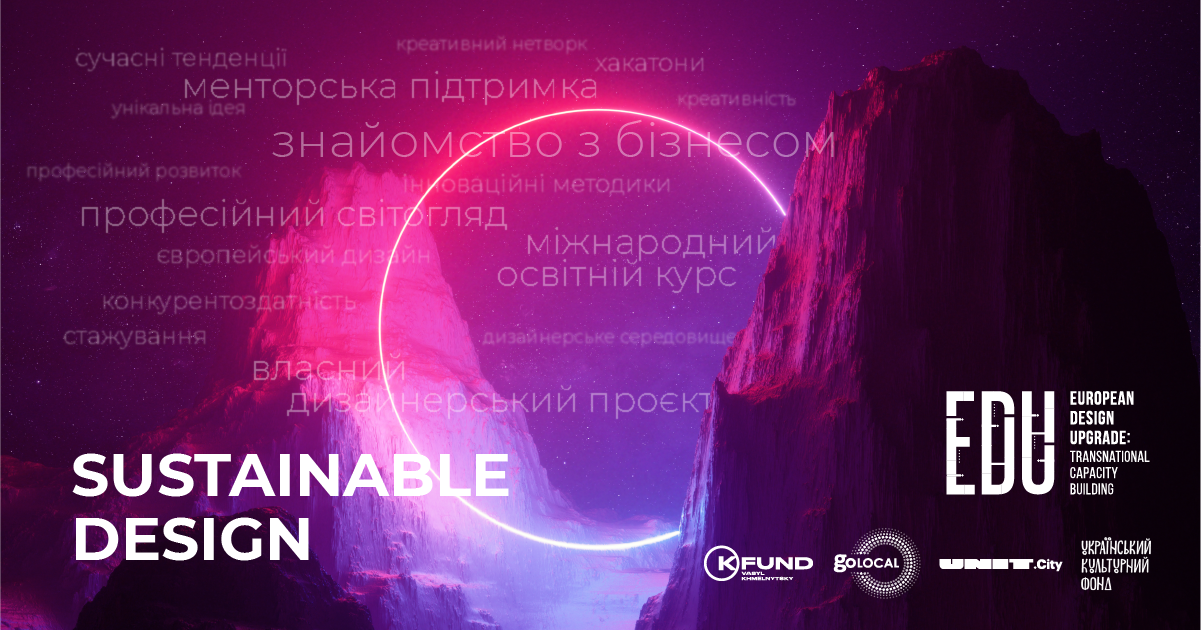 Everything that surrounds us, people, is designed by designers – from a notebook to cars. In order for humanity to one day achieve the global goals of sustainable development, move to circular economies, designers around the world must acquire knowledge and skills of the highest level.
European Design Upgrade — an ambitious project aimed at developing creative industries, supporting talented designers, artists and technologists — has been held in Ukraine for the second time. 80 talented Ukrainian designers from Kyiv, and Kharkiv, have completed an updated interdisciplinary course, developed in collaboration with leading teachers from Belgium, Ukraine, and Finland.
As part of the course, participants:
attended lectures by Ukrainian, Belgian and Finnish lecturers;
had the opportunity to visit creative laboratories of designers and practice new skills;
visited the NEST Hub at UNIT.City in Kiev, where they got acquainted with successful Ukrainian design startups, in particular, S.Lab, effa, Neverdark;
developed their own creative idea of ​​the European level;
passed hackathons and presented their ideas of the business environment;
received valuable networking, acquaintances, support from mentors.
EDU 2.0 mentors: innovative designer Dasha Tsapenko, architect Elena Orap, graphic designer Dasha Podoltseva, lecturer at the Department of Design and Advertising at the Faculty of History and Philosophy of Drahomanov National Pedagogical University and head of the design department of the Institute of Arts of the Borys Hrinchenko Kyiv University, Lilia Derman, sisters Alina Gaeva and Karina Gaeva, the artist and founder of her own brand, as well as the author of creative architectural desserts Dinara Casco and parametric design specialist, teacher of the Kharkiv School of Architecture Andrei Pavlov.
Projects
As part of the European Design Upgrade 2.0 training course, students presented their projects to representatives of business and the creative sector.
Among the projects of participants from Kiev are:
virtual local friend for teens;
collection of lamps made from biomaterials and recycled materials;
research of the virtual image of modern women's fashion;
development of augmented reality prints on clothes with images of animals from the Red Book of Ukraine;
an art collection of clothes to draw attention to the psycho-emotional states of a person;
transformer kits with the ability to become your own designer by playing with the help of simulation;
a workshop for the interaction of scientists and artists in order to create unique works of art;
a personalized collection of sanitary ware with an appeal to the ideas of humanity and naturalness;
tubes that generate electricity;
biofuel from silt to cleanse the bottom;
children's creative agency;
designer of outdoor furniture and composite installations;
marketplace "TWICE";
educational ecological graphic products case for children.
Finalist projects in Kharkov were:
a network of urban cultural centers for the elderly;
exhibition of NFT artists;
transformation of the walls of Starobelsk into art objects;
agent clothes "A-light";
ecological laboratory "Your tomorrow";
reuse of packaging "Life after unpacking";
furniture and interior items from secondary raw materials;
unisex transforming clothes;
T-shirts-posters with animals on the verge of extinction;
organic jellyfish glue for ecosystem restoration
Winners and prizes
In each city, the top 5 projects were selected, which received awards and support from business representatives.
The winners of EDU 2.0 in Kharkiv are:
Anna Ivanova, project "Life after unpacking";
Daria Tanasova, Trash to treasure project;
Elizaveta Poplyak, Digital Art Project;
Angelia Chepel, City Art Object project;
Sofia Nagorna, project "Organic Jellyfish Glue".
They will all receive a meeting with the General Director of UNIT.City in Kharkiv Anton Shkoropatenko, a subscription — a month of work in the UNIT.City coworking in Kharkiv, an hour of consultation with Anastasia Sevastyanova, owner of the SAS brand Sevastyanova, an hour of consultation with Anton Limonchenko, head of clothing at the Sales Culture company ".
The winners of EDU 2.0 in Kiev are:
Ekaterina Pokhodenko, project "Marketplace "TWICE";
Julia Yalanzhi, Nasinnya project;
Angelina Lavrenyuk, project Interaction between art and science;
Olga Radionova and Irina Gaidaenko, Children's Creative Agency project;
Ekaterina Tkachuk, Cognosce te ipsum project;
Maria Kobylyanskaya, project "Art Collection of Clothes" Emotions ".
They received the following prizes: 1st and 2nd places – training under the USB Start program at the Unit School of Business, 3rd and 4th – a subscription to the Fablab rapid prototyping laboratory, 5 and 6 – a monthly subscription to the Unit.City coworking space.
What's next
In the future, the course will be finalized with Ukrainian and foreign teachers and proposed for implementation in Ukrainian specialized educational institutions. Kharkiv Academy of Design and Arts, Kyiv State Institute of Decorative Art And Design Named M. Boychuk, Faculty of Economics of Taras Shevchenko National University of Kyiv, Drahomanov National Pedagogical University, Institute of Arts of the Borys Hrinchenko Kyiv University, Faculty of Design and Advertising, Kiev National University of Culture and Arts, as well as teachers who completed the program together with other participants.
European Design Upgrade is implemented in partnership with the Vasyl Khmelnitsky Foundation K.FUND, the GoLOCAL public organization and the Brussels Creative innovation and technological hubs in Belgium and the Urban Mill in Finland with the support of the Ukrainian Cultural Foundation, UNIT.City innovation parks in Kiev and Kharkov.